GKA60M-166 345Watt Mono Crystalline Module
Solar panel cell: 6BB 166mm*166mm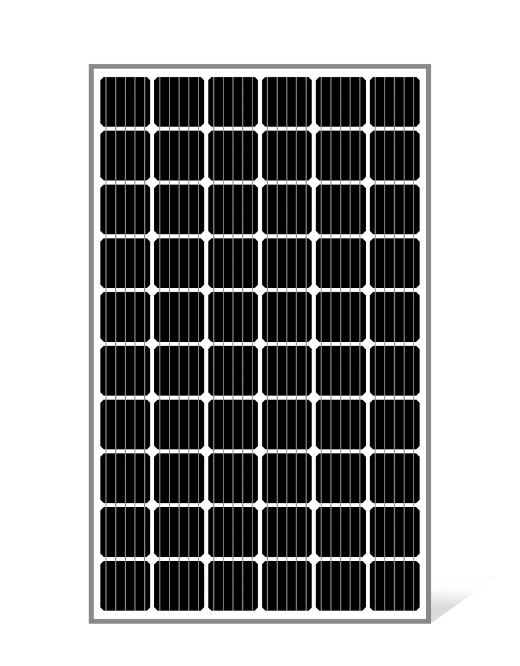 KEY FEATURES
6 Busbar Solar Cell:
6 busbar solar cell design module improves efficiency and
offers a better aesthetic appearance, making it perfect for
rooftop installatio
n.
High Efficiency:
Higher module conversion efficiency(up to 24.67%) benefit from Passiv
ated Emmiter Rear Contact (PERC) technology
PID Resistance:
GAMKO modules pass PID test, limited power degradation by PID test is
guaranteed for mass production.
Low-light Performance:
Advanced glass and surface texturing allow for excellent performance in
low-light environments.
Severe Weather Resilience:
Certified to withstand: wind load (2400 Pascal) and snow load (5400
Pascal).
Durability against extreme environmental conditions:
High salt mist and ammonia resistance certifified by TUV NORD.
Temperature Coefficient:
Improved temperature coefficient decreases power loss during high
temperatures.


GAGAMKO SOLAR MODULE BOMGAMKO SOLAR MODULE BOMMKO SOLAR MODULE BOM
GAMKOGAMKO SOLAR MODULE BOM
CELLS:
JINKO,GCL,TONGWEI,LONGI
TEMPERED GLASS:
AVIC SANXIN
EVA:
FIRST EVA
AMKO SOLAR MODULE BOM
GAMKO QUALITY CONTROLGAMKO QUALITY CONTROLGAMKO QU
GAMKO QUALITY CONTROL
C
ONTROLGAMKO QUALITY CON
*2 EL testing avoid cells cracking of each solar module.
*2 Power flflash testing avoid false welding and insufficient power of each module.
* Packing tightly with angle protection avoid transportation broken.
*Zurich Quality Insurance cover all Gamko solar module 30 years.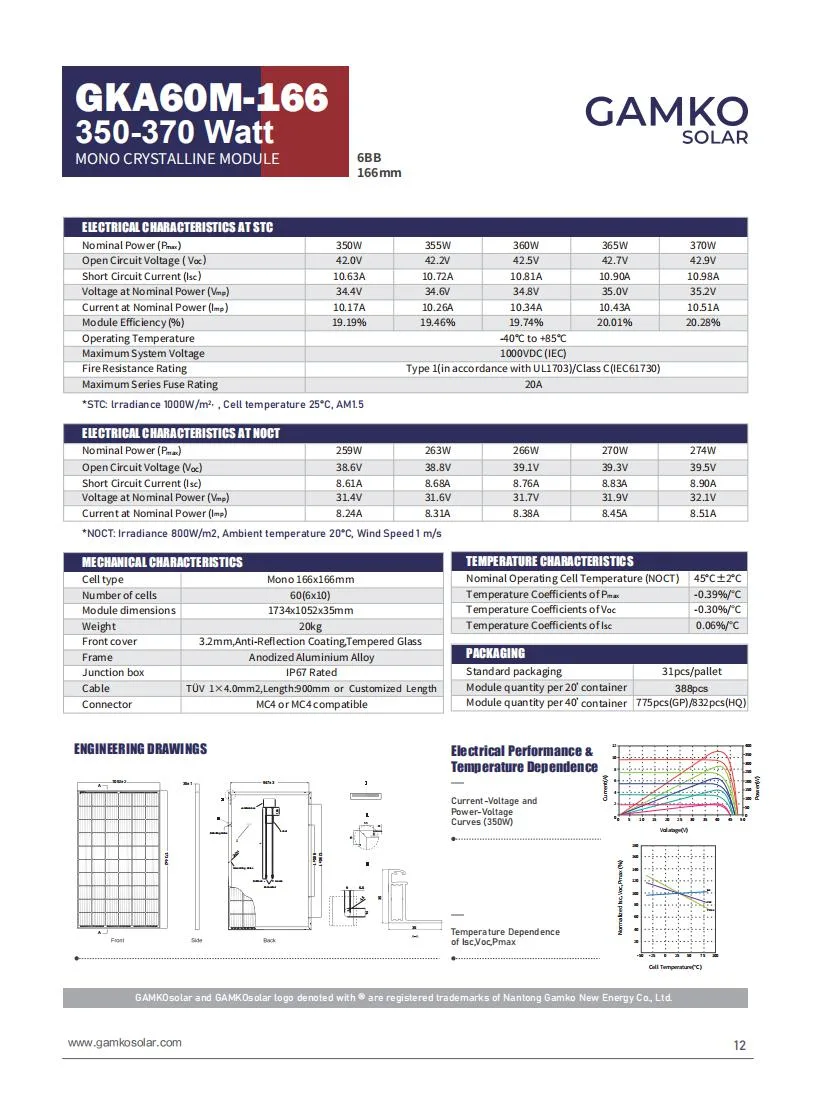 COMPANY PROFILE
Gamko energy, Worldwide Energy and Manufacturer, is a professional solar module manufacturer with a 10-year experience in production and quality control since 2008. Gamko is also a provider of technical services for solar power plant(on-grid and off-grid), including technical design, installation and maintenance, for customers all over the world.

In August 2013, Gamko adjusted its strategy and started to cooperate with the top-level factories in Taiwan, South Korea and USA to produce GAmko modules. With the best and most advanced production equipment in different countries, In 2018, we have a production capacity of 700MW.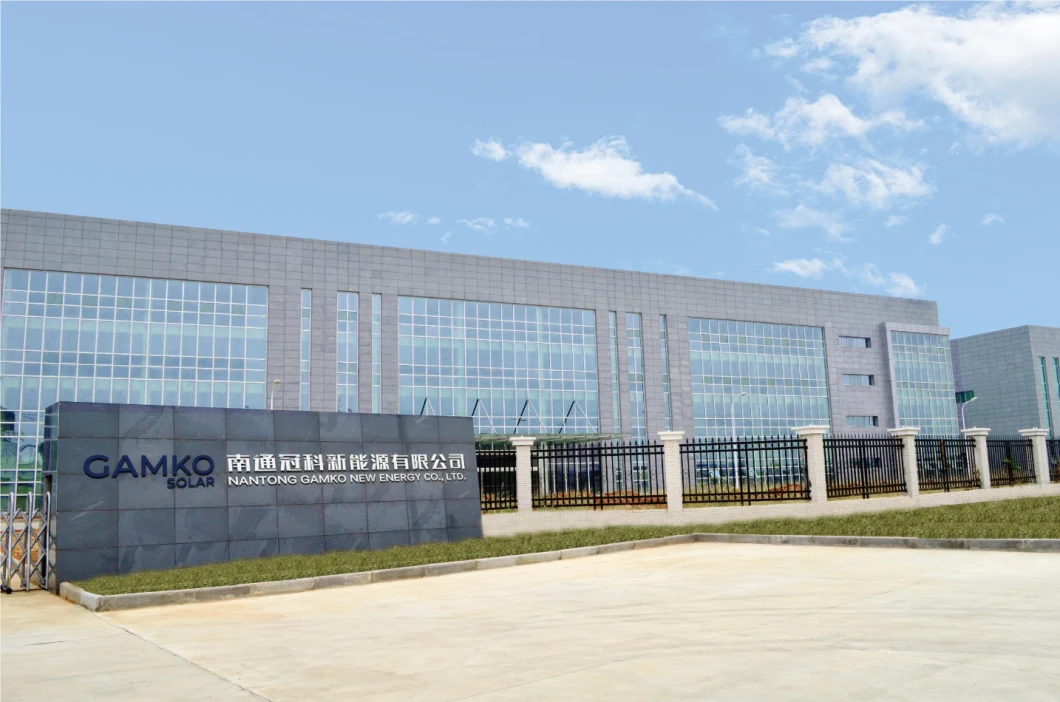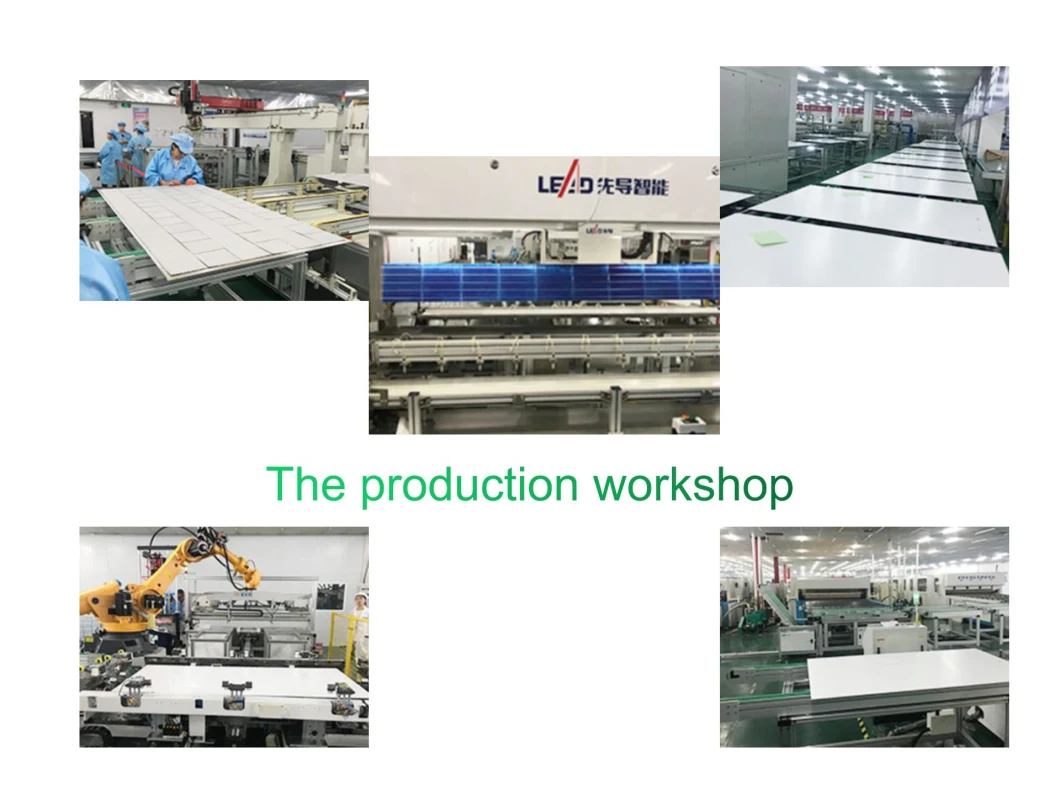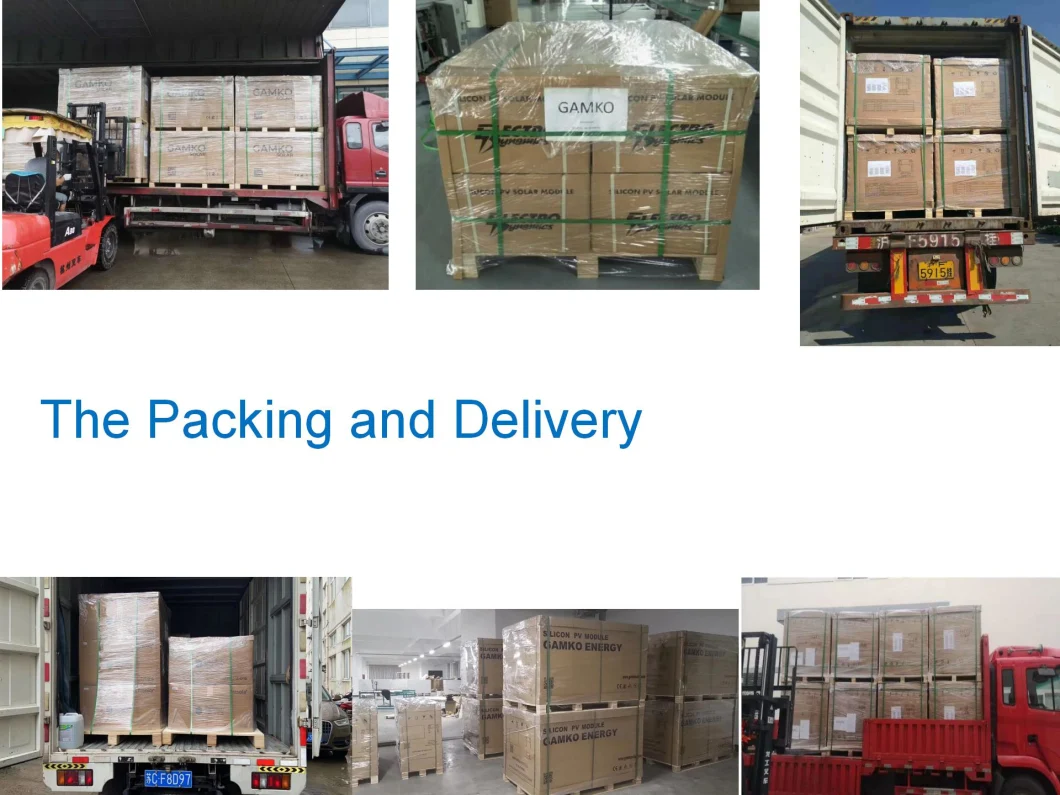 FAQ:
Q:We like to buy your panels, cause the price is good, but the price is not most
important, I don't like to buy the trash, how do I know your solar panel have a
good quality, everybody say they are A grade panels, how I can trust you?

A:Firstly, we make new panels not stock panel, we will providing the flash test report,Series number, Power rates , voltage, current all mentioned on the flash test report for individual solar panel, The stock panel have no any database. You don't know if they are defective or broken panels. But its not enough. Please ask Gamko provide the flash test photo and EL photo for each panel.
Q:I am also worry about my payment safe, How can you guarantee me 100% payment security?

A:if you do worry about the payment safety so either I, lets do "Alibaba Trade Assurance Payment" for both safety
Q:How do you comply with your warranty terms if the solar products broken or defective?

A:It's a hard question to answer. After all, we are not a big company like Trina or Jinko , so we buy the quality insurance, After 10th October 2018, you buy the panels from GAMKO, bar code number from GK20181010 ‐ GK20191010 , if there is any problem, in the case of my company does not undertake, can take a loss by insurance company, however, we believe our quality, and I believe if any quality problem, you can get the refund from our company directly.