Rooftop Air Conditioning Unit
1)
BRIEF INTRODUCTION AND FEATURES
Rooftop air-conditioning unit is DX air-cooled type, combined of the refrigeration system, control systems and
different air handling sections, achieving cooling, heating, dehumidification, humidification, air purification,
sterilization and other functions.Complete with a wide cooling capacity range, no need cooling water system, omit
the dedicated room and complex cooling towers, water pumps and the corresponding pipelines, control device. Unit
usually mounted on the roof or other outdoor location, don't need dedicated room, which greatly save the cost of
civil work. Besides, It's easy to install--- only to connect the duct then power on to run, which also save the cost of
maintenance.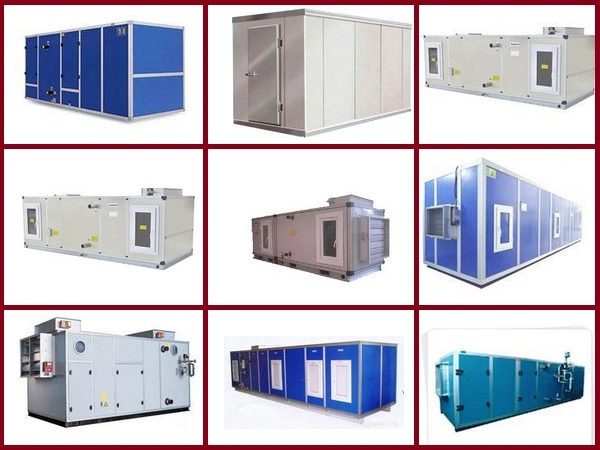 2)
Main Unit Descriptions
1) Efficient and Energy-saving.
Each outdoor unit incorporates high efficiency scroll compressors.
Coils use high efficient inner screw copper tube for better heat transfer.
Fresh air non energy dissipating cooling in transient season, can adjust air volume what the fresh air system
required.
OEM energy recovery device.
2) Durable( corrosion and rust protection).
Our packaged systems are built tough towithstand all weathers.
Their durable construction ensures a long life and excellent return on your investment.
The outdoor air coils' aluminum fins could be epoxy coated for extra protection in corrosive environments, e.g. salt
laden sea air.
Blue-fin type coils, epoxy resin fin coils as well as the copper fin coils are also available as an option.
Cabinets are constructed from high grade steel - polyester powder coated for all weather protection.
External fasteners are stainless steel or galvanized type.
Corrosion resistant drain trays are also included.
Designed to evacuate rain water and condensed water easily from the unit.
The opening for the connection side ducts are protected
so that water will not splash on the joint between the duct and unit panel.
3)
Safety
.
Complete with various protecting function.
Pass kinds of safety tests.
4)
Easy service.
Quick release fasteners are provided on electrical and compressor panel.
The units are equipments with access door to all components that may require maintenance or service.
The liquid sight glasses are visible and easy to find.
Access to the control circuit and compressor section is independent of the cooling or heating operation of the unit.
5)
Options.
Electric heater, hot-water heating, steam-heating unit.
Manul/electric fresh air damper, plug fan, dedicated exhaust fan air filter dirty alarm device.
Energy recovery device.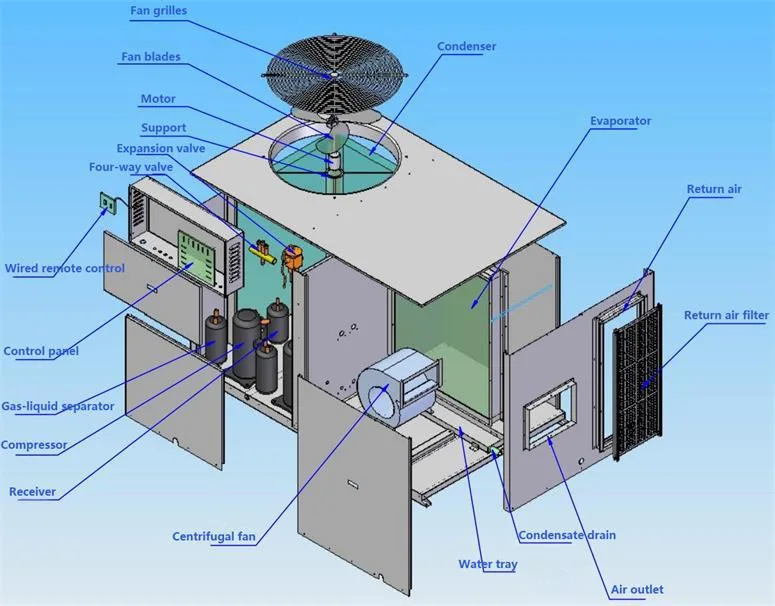 Standard heat pump type rooftop air conditioner
Spec table 1
Model

WRF12ZA

WRF 15ZA

WRF18ZA

WRF24ZA

WRF30ZA

WRF 35ZA

WF12ZA

WF 15ZA

WF18ZA

WF24ZA

WF30ZA

WF 35ZA

Cooling capacity

kW

12

15.2

17.5

24

30.3

3

5.6

Heating capacity

kW

13.2

16.6

18.4

26.5

33.3

3

7.7

Energy regulation




%

0

,

100%

0

,

50

,

100%

Power

380V / 3Ph / 50HZA

Cooling input capacity

kW

4.1

5.3

5.5

8.8

11.3

12.3

Heating input capacity

kW

3.8

4.8

5.1

8.2

10.4

11.3

Start current

A

48

62

63

63

74

76

Cooling running current

A

7.4

9.7

10.2

16.1

21.2

23.3

Heating running current

A

6.9

9.2

9.7

15.1

20.1

22.2

Throttling method




Thermal expansion valve




Cooling system

1

1

1

1

2

2

Refrigerant

R410A

Compressor

Compressor type

Hermetic scroll compressor




Qty

1

1

1

1

2

2

Condensation side




Condenser

Type

Copper tube and aluminum fin

Qty

1

1

1

1

1

1

Drive type

Direct drive

Motor power

kW

0.25

0.37

0.37

0.55

0.75

0.75

Air volume

m

3

/h

4600

7800

7800

9000

12600

12600

Evaporation side




Evapotator

Type

Copper tube and aluminum fin

Qty

1

1

1

1

1

1

Motor power

kW

0.32

0.37

0.45

1.1

1.5

2.2

Air volume

m

3

/h

2100

2600

3400

4100

5200

6300

Drive type

Direct drive

Pulley

Static pressure

(

Pa

)

100

100

100

200

200

250

Filter

Aluminum filter G3

Noise dB(A)

67

67

68

71

72

72

Refrigerant filling volume

(

kg

)

3.1

3.1

4.3

2x3.1

2x3.1

2x4.3

External dimension

L

mm

1410

1410

1410

1978

1978

1978

W

mm

1100

1100

1100

1175

1175

1175

H

mm

1095

1095

1095

1095

1095

1095

Weight

kg

240

260

290

420

480

500
Note: 1. Nominal cooling capacity is under nominal air volume, indoor DB/WB temperature is 27
ºC
/19
ºC
and outdoor DB/WB temperature is 35
ºC
/24
ºC
condition;
2. Nominal heating capacity is under nominal air volume, indoor DB/WB temperature is 20
ºC
/15
ºC
and outdoor DB/WB temperature is 7
ºC
/6
ºC
condition;
Spec table 2
Model

WRF45ZA

WRF50ZA

WRF 60ZA

WRF72ZA

WRF 90ZA

WRF105ZA

WF 45ZA

WF 50ZA

WF 60ZA

WF 72ZA

WF90ZA

WF 105ZA

Cooling capacity

kW

44.5

50

60

70

90

105

Heating capacity

kW

48.7

54.3

64

75.4

96.2

113.2

Energy regulation




%

0

,

33

,

66

,

100

0

,

30

,

70

,

100

0

,

50

,

100

0

,

50

,

100

0

,

33

,

66

,

100

0

,

33

,

66

,

100

Power

380V / 3Ph / 50HZA

Cooling input capacity

kW

17

19.5

22.8

26.7

32.9

39.7

Heating input capacity

kW

15.6

18

21

24.8

30.4

36.7

Start current

A

168

186

175

199

197

266

Cooling running current

A

31.7

35.6

39.9

48.3

61

70.6

Heating running current

A

29.9

33.5

37.5

45.4

57.3

66.3

Throttling method




Thermal expansion valve




Cooling system

1

Refrigerant

R410A

Compressor

Compressor type

Hermetic scroll compressor




Qty

2

2

2

2

3

3

Condensation side




Condenser

Type

Copper pipe copper fin

Fan

Qty

1

1

1

1

2

2

Drive type

Direct drive

Motor power

kW

1.1

1.5

1.5

2.2

2X1.1

2X1.5

Air volume

m

3

/h

16500

21000

21000

27000

33000

42000

a

2.65

3.82

3.82

5.49

2.65

3.82

kw

1.14

2.02

2.02

2.875

1.14

2.02

Evaporation side




Evaporator

Type

Evaporator

Qty

1

1

1

1

1

Motor power

3

3

4

4

5.5

5.5

Air volume

7600

8500

10900

12500

16000

19500

Drive type

Static pressure

(

Pa

)

250

250

300

300

300

300

Filter

Aluminum filter G3

Noise dB(A)

73

73

73

75

74

75

Refrigerant filling volume

(

kg

)

4.3+

4.3+8.5

2x7.5

2x8.5

3x7.5

3x8.5

External dimension

L

mm

2268

2268

2298

2298

2878

2878

W

mm

1440

1440

1650

1650

2140

2140

H

mm

1167

1167

1400

1400

1964

1964

Weight

750

770

880

960

1160

1350
Note: 1. Nominal cooling capacity is under nominal air volume, indoor DB/WB temperature is 27
ºC
/19
ºC
and outdoor DB/WB temperature is 35
ºC
/24
ºC
condition;
2. Nominal heating capacity is under nominal air volume, indoor DB/WB temperature is 20
ºC
/15
ºC
and outdoor DB/WB temperature is 7
ºC
/6
ºC
condition;
Spec table 3
Model

WRF120ZA

WRF140ZA

WRF150ZA

WRF180ZA

WRF210ZA

WRF300ZA

WF120ZA

WF140ZA

WF150ZA

WF180ZA

WF210ZA

WF300ZA

Cooling capacity

kW

120

140

149

180

210

298

Heating capacity

kW

128.3

150

159.2

192.5

226

318

Energy regulation




%

0

,

25

,

50

,

75

,

100

0

,

50

,

100

0

,

16.6

,

33.3

,

50

,

66.4

,

83

,

100

0

,

25

,

50

,

75

,

100

Power

380V / 3Ph / 50HZA

Cooling input capacity

kW

45.1

55.7

55.1

69.9

83

106.7

Heating input capacity

kW

41.7

51.8

51.5

64.8

77

100

Start current

A

218

252

323

232

301

415

Cooling running current

A

82.4

101.4

100.2

130.9

151

192.3

Heating running current

A

77.4

95.7

95.1

123.5

142.3

184.3

Throttling method




Thermal expansion valve

Cooling system

4

4

2

6

6

4

Refrigerant

R410A

Compressor

Compressor type

Hermetic scroll compressor




380V / 3Ph / 50HZA

Qty

4

4

2

6

6

4

Condensation side




Condenser

Type

Copper pipe copper fin

Fan

Qty

2

2

2

4

4

4

Drive type

Direct drive

Motor power

kW

2X1.5

2x2.2

2x2.2

4X1.1

4X1.5

4x2.2

Air volume

m

3

/h

42000

54000

54000

66000

84000

108000

Evaporation side




Evaporator

Type

Copper pipe copper fin

Qty

1

1

1

1

1

1

Motor power

kW

7.5

11

11

15

15

18.5

Air volume

m

3

/h

21000

25000

26000

32000

38000

54000

Drive type

Pulley

Static pressure

(

Pa

)

400

400

500

500

500

Filter

Aluminum filter G3

Noise dB(A)

75

79

79

80

80

82

Refrigerant filling volume

(

kg

)

4x7.5

4x8.5

2x17

6x7.5

6x8.5

4x14

External dimension

L

mm

3626

3626

3626

4690

4690

5660

W

mm

2200

2200

2200

2330

2330

2330

H

mm

2047

2047

2047

2055

2427

2055

Weight

kg

1710

1820

1850

2180

2430

2860
Note: 1. Nominal cooling capacity is under nominal air volume, indoor DB/WB temperature is 27
ºC
/19
ºC
and outdoor DB/WB temperature is 35
ºC
/24
ºC
condition;
2. Nominal heating capacity is under nominal air volume, indoor DB/WB temperature is 20
ºC
/15
ºC
and outdoor DB/WB temperature is 7
ºC
/6
ºC
condition;