1KW 2KW 3KW solar pv mounting system/solar panel mounting structure/standing seam roof mounting bracket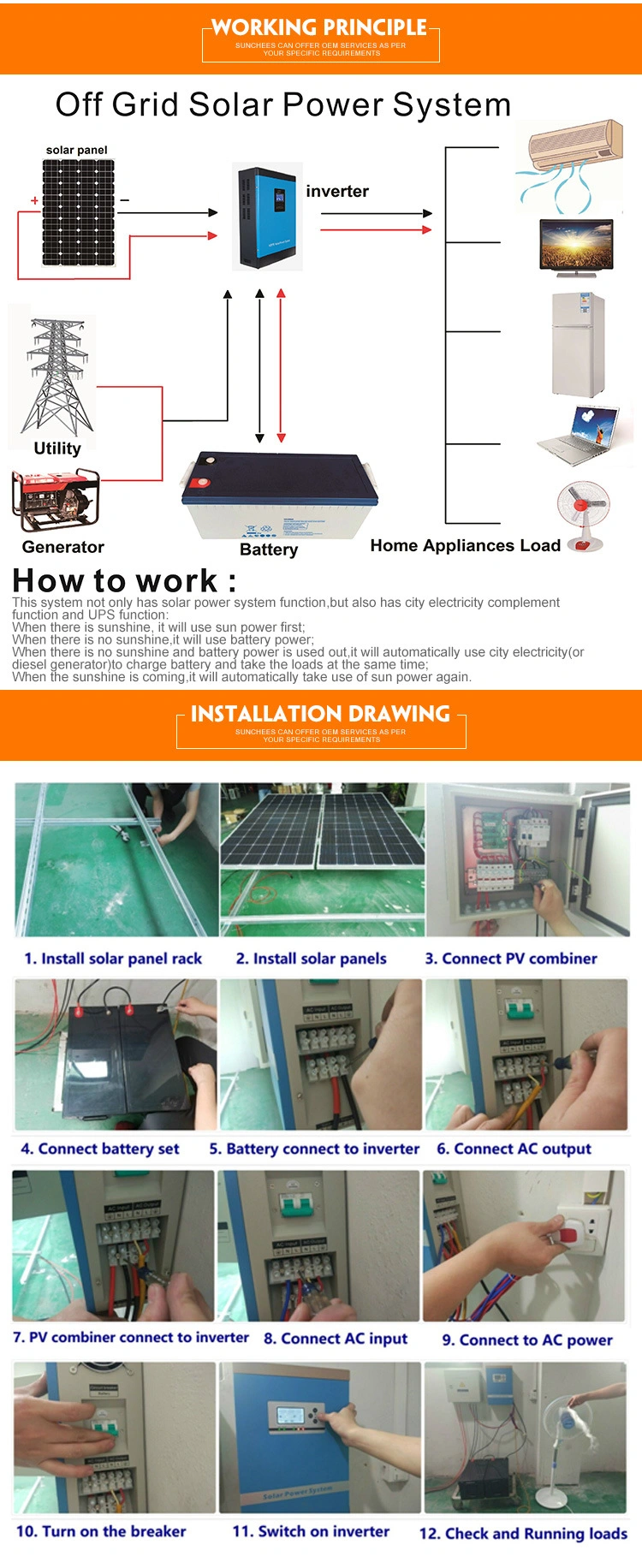 2kw full set home use pv system detailed design and specification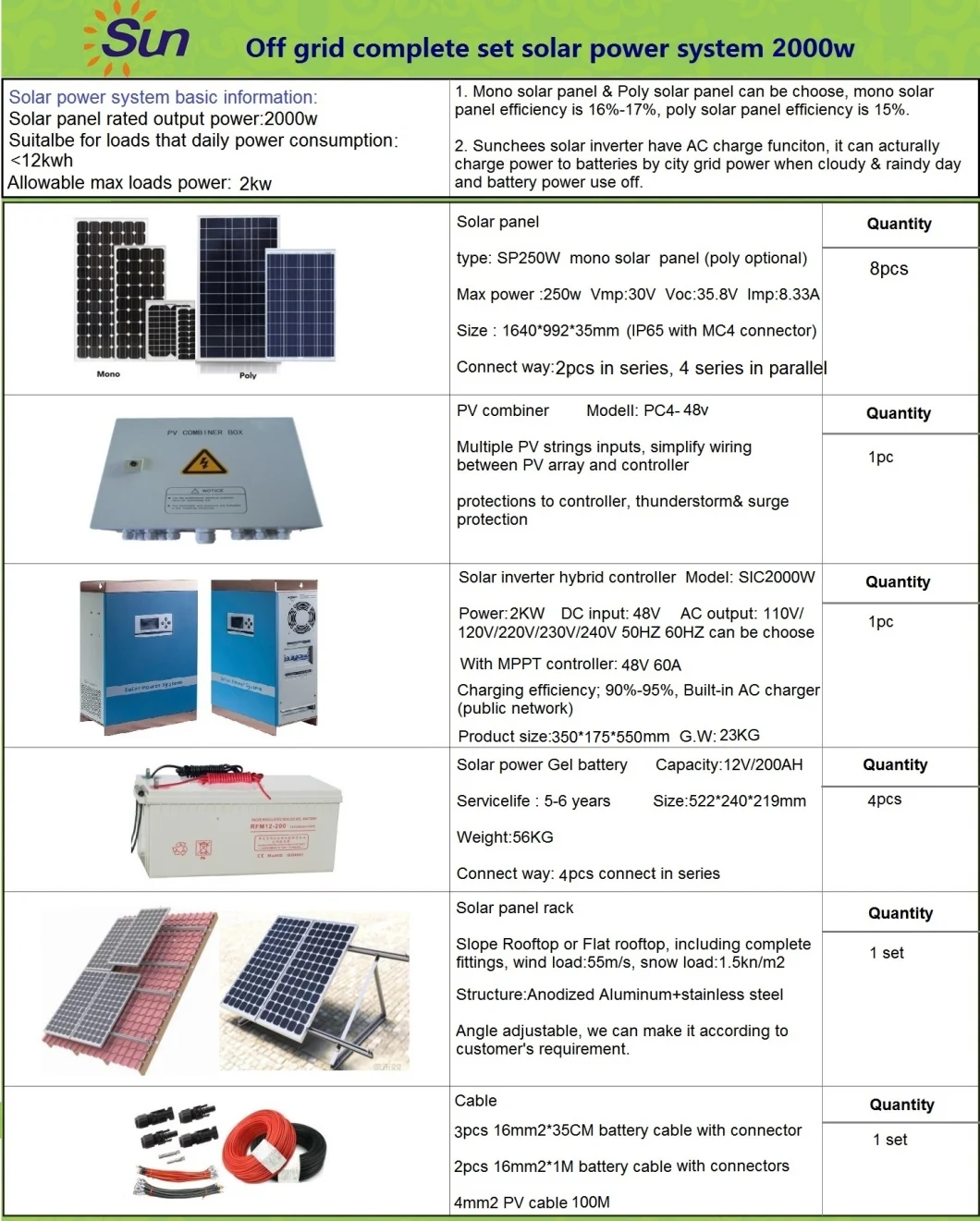 3KW solar pv panel system detailed design and specification

SUNCHEES

Off grid solar power system- SPS-3KW



System
Basic Information
Solar panel rated output power: 2750W
Suitable for daily power consumption : <16KWH
Allowable max loads power : 3KW
Full set:

Total volume:1.95CBM Total weight:748KG



Solar panel
SP275W mono solar panel(poly optional)
Vmp:30V Voc:35.8V Imp 8.33A
Size : 1640*992*40mm
25 years life time (CE TUV)
Glass:3.2mm Tem pered
Terminal block:IP65 with MC4 connector


Efficiency performance :25 years 80 % 20 year 85% 10 years 90%


Connect way: 2 pieces in series, 5 series in parallel

QTY
10pcs
PV Array Combiner

Model:H6T-48v Multiple PV strings inputs.
Simplify wiring between PV array and controller. protections to controller
Wide range of DC input voltage


Reliable thunderstorm& surge protection



QTY
1pc
Hybrid solar Inverter

Inverter power: SI3kw/48v
MPPT Controller model: 50A/48V
Charging efficiency: 98.1%, Maximum pv input voltage: 160V
LCD display inverter and controller info
Built-in AC charger (public network)
Output:110v,120v,220v,230v,240v(optional)
Product size:370*195*570mm

QTY
1pc
Gel Battery

Capacity:12V/200AH
full sealed Solar power gel battery,
Service life:6-8 years ,
Size:522*240*219mm Weight:59KG
Connect way: 4pcs battery in series connect to solar hybrid inverter

QTY
4pcs
panel rack

Slope Rooftop or Flat rooftop
wind load:55m/s,snow load:1.5kn/m2
structure:Anodized Aluminum+stainless steel, Angle adjustable
(other type of rack can be customized as per client's requirement )

QTY
1set
Cables

1) 3pcs 16mm2*35CM battery cable
2pcs 16mm2*1M battery cable
2)4mm2 PV cable 100M
3)terminals and MC4

QTY
1set
What home loads can run by 3kw solar pv system?
What home loads can be running by 3kw home solar system?

Load name

Load's watt

Qty

Total watt

lights

11W

8

88W

Fan

80W

2

160W

computer

100W

2

200W

Washing machine

250W

1

250W

Electric cooker

300W

1

300W

Satellite TV receiver/VCD

25W

1

25W

Color TV

100W

1

100W

Water pump

200W

1

200W

Refrigerator

100W

1

100W

Air conditioner(1.5HP)

1125W

1

1125W

Total

2548W
Remark:

Refrigerator, air conditioner

&

water pump

is inductive load ,start working power is 3-6 times more than normal power ,in the process of use ,turn on the inductive load first

.

Sunchees solar pv system project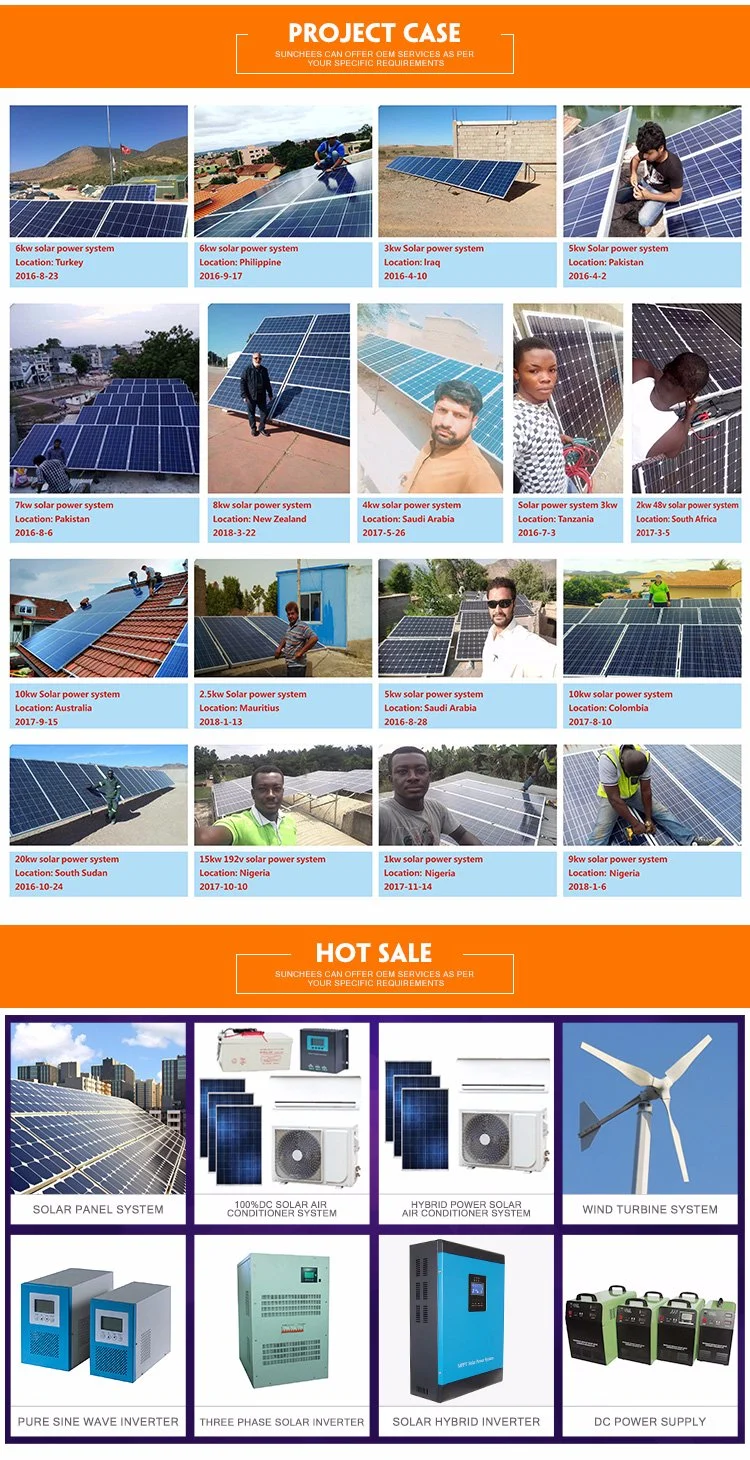 Sunchees certifications and production line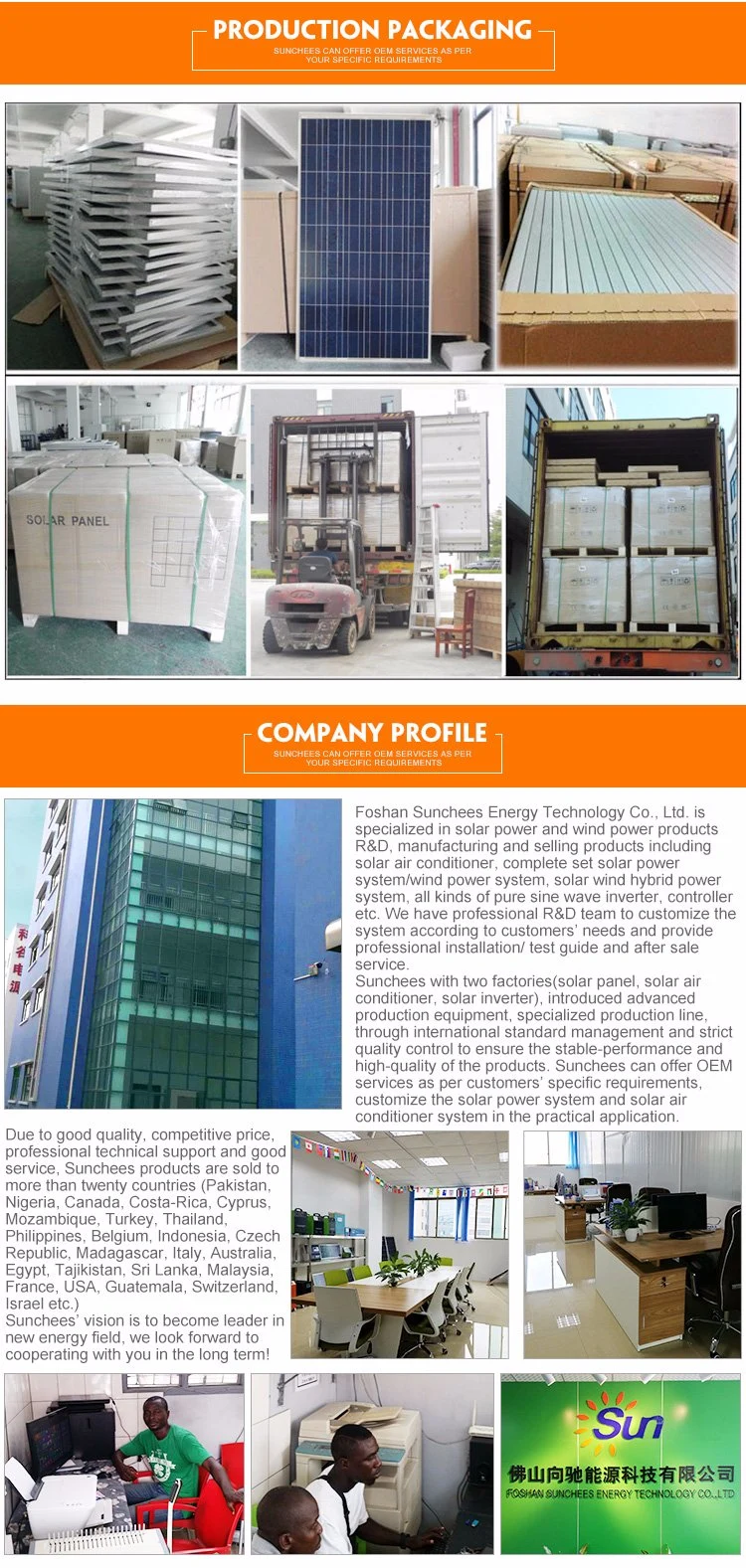 FAQ
Q: What can be included for this system from SUNCHEES?
A:This system includes: solar panels, PV array combiner, Solar inverter with MPPT solar controller build in, Gel free maintenance battery, solar panel rack, cables.,etc.

Q: Is the solution for complete set? If not, what else are needed?
A: Yes, we can provide solution of complete set. If you don't need complete set, basic parts are available also.

Q: Is the system solution always the same? Can I customize one?
A: No. We have professional teams making solutions for our clients. Solutions are mainly customized based on different sunshine time and power consumption. So the 1kw system may be with different configuration.

Q: Who arranges the shipping?
A: We could help you arrange the shipment, we have good service forwarder in Foshan and Guangzhou.

Q: Can the inverter switch automatically to national grid to protect batteries.
A: Yes. It can also connect to third generator, as like diesel generator. Please tell our sales before production.

Q: What is the lifetime of the solar power system?
A: Solar panel's lifetime are 25 years, charger controllers 5~ 7 years, inverters 5~7 years, batteries 6~8 years.

Q:what is SUNCHEES solar system after sales service?
A: during the warranty ,Solar panel--ship free new one ;battery-ship the new one, Inverter/controller---ship free PCB by DHL or Fedex.

Q:what is your trade Assurance?
A:100% product quality protection
100% product on time shipment protection
100% payment protection for your covered amount
If you have more question, welcome to contact us freely, Choose SUNCHEES, Choose Satisfaction!
We accept OEM and small trial orders, contacting with us now for more information. All inquiries will be replied with in 24 hours.
Contact us
Name:
Dola Luo
Phone: +86 15875797634